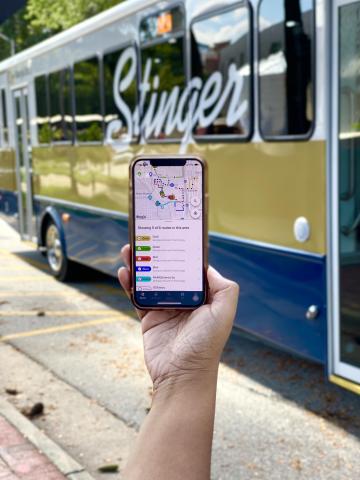 Download image
Aug 01, 2022 — Atlanta, GA
Parking and Transportation Services (PTS) has introduced a new bus tracking mobile application to serve the Georgia Tech campus community. This new mobile application, TransLoc, replaces Passio Go and will eventually replace the Stingerette nighttime safety shuttle system later in the fall.  
TransLoc will provide fixed route bus tracking and on-demand Stingerette safety shuttle access all in one mobile application, shifting away from using two tracking apps. On demand services for the Stingerette will be added to the TransLoc app later in the fall. TransLoc is available in the App Store and Google Play.  
This enhanced technology is installed within the new bus fleet, providing a robust reporting suite that includes automated passenger counting and stop announcements. This new feature will help PTS improve service delivery and service planning. It will also help retrieve estimated real-time ridership data for the Stinger shuttle service. 
TransLoc is used locally by other Metro Atlanta institutions such as Emory, Kennesaw State, and SCAD. 
For more information and to download the app, please visit transloc.com/app/. Real-time route information can be found at bus.gatech.edu.