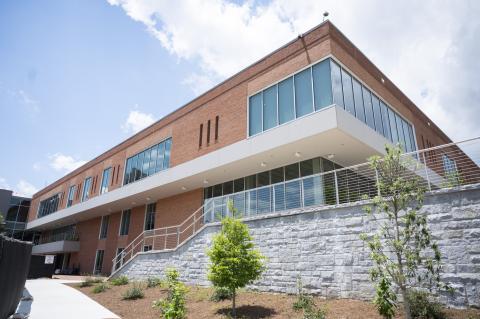 Download image
Jul 22, 2022 — Atlanta, GA
The newly renovated John Lewis Student Center and Stamps Commons will officially open on Monday, Aug. 1. Until the start of the fall semester, it will be open from 8 a.m. to 5 p.m. Monday through Friday. Fall hours of operation will be available at the Student and Campus Event Centers website.
The renovation has brought exciting new dining venues, lounge and study areas, and event spaces such as community favorite Tech Rec back to the heart of campus after more than two years of construction. To honor the building's namesake, meeting rooms are named after streets in the 5th Congressional District, which John Lewis represented.
Tech Dining is offering faculty and staff a special sneak peek of the dining venues on Thursday, Aug. 4, from 11 a.m. to 2 p.m. Employees will receive a 40% discount on mobile orders with the code STAFFTXS. Download the mobile ordering app at dining.gatech.edu/mobileordering. Employees can also enjoy free bowling and billiards at Tech Rec during the event.
The opening of the John Lewis Student Center is one phase of the larger project to renovate the area, which is comprised of several buildings including the Exhibition Hall, Pavilion, and Experiential Pathway. Over the next few months, the next phase of the project will take place. This includes the retrofitting of spaces in the Exhibition Hall and Pavilion, buildings that served as temporary locations for services during the past two years. Paper & Clay will also reopen in the Pavilion later this fall.
A formal dedication and grand opening celebration of the John Lewis Student Center will take place this fall. Find more information at the project website.