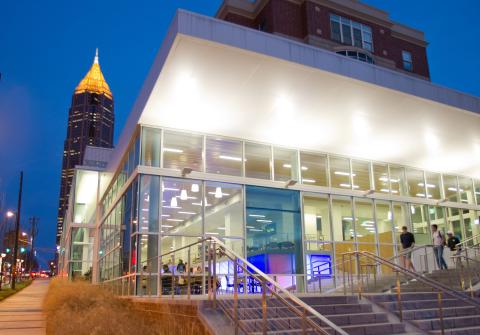 Download image
Jun 20, 2019 — Atlanta, GA
Starting July 1, Aramark will begin as Georgia Tech's new on-campus dining services provider. The transition will bring temporary changes in the operating hours for several dining locations.
June 24–30
Starbucks in the Clough Undergraduate Learning Commons will CLOSE from June 24 until June 30. Dunkin' Donuts, Blue Donkey, and Highland Bakery will remain OPEN to provide coffee and breakfast options.
Chick-fil-A in the Student Center Commons will CLOSE from June 24 until June 30.
July 1–7
North Avenue Dining Hall will OPEN on July 1.
Brittain Dining Hall will CLOSE from July 1 until July 7 at dinner.
All locations except North Ave Dining Hall will be CLOSED on July 4.
West Village Dining will temporarily operate with buffet style options from the second floor restaurants beginning July 1 and continuing through August 14.
These temporary changes will help ensure a smooth transition and minimize the impact on the campus community. For a list of alternative dining options, visit dining.gatech.edu.